NSB Protects Your Reputation


Many of the nation's most recognized brands trust National Service Bureau with their 3rd party collection needs. NSB turns their receivables into revenue while maintaining brand integrity, safeguarding customer data, and offering a full suite of services tailored to their individual business needs.
Passionate About Your Positive Reputation
NSB is passionate about maintaining your positive reputation with every customer interaction. Our Recovery Specialists receive ongoing, comprehensive, hands-on training regarding professionalism and de-escalation techniques before having any customer contact.

Our Auditing Team follows our proven Quality Assurance processes to ensure compliance and professional customer interaction at every level. We strive to exceed industry best practices, perform deeper skip tracing than our competition, and have invested millions of dollars in technology to ensure data security for support recovery efforts.
From early-stage delinquent accounts to handling closed file audits, NSB provides solutions.
Your positive industry reputation is upheld while we collect on your overdue accounts.
You can relax, knowing that NSB follows all regulatory compliance laws for each state.
Your customer data is secure when NSB is part of your recovery strategy.
"I met NSB while attending the 2022 NASP Annual Conference. After several failed attempts at using different recovery firms, we finally tried out NSBs recovery services and have not been let down since. Their performance and communication with our staff have been nothing short of outstanding."
Susan D., Director of Claims
You want to outsource your collection activities but don't want to tarnish your reputation.
NSB protects your reputation like it's our own. We understand that every customer interaction reflects your organization, and our training puts special emphasis on professional customer service.
Maintaining your high data security standards is a critical point when selecting a recovery partner.
NSB Client's benefit from the millions of dollars and thousands of hours we've spent ensuring the integrity and security of our Client's data.
On average, NSB collects more
NSB collects 4.8% more than the industry average
NSB collects accounts 19.5 days faster than the industry average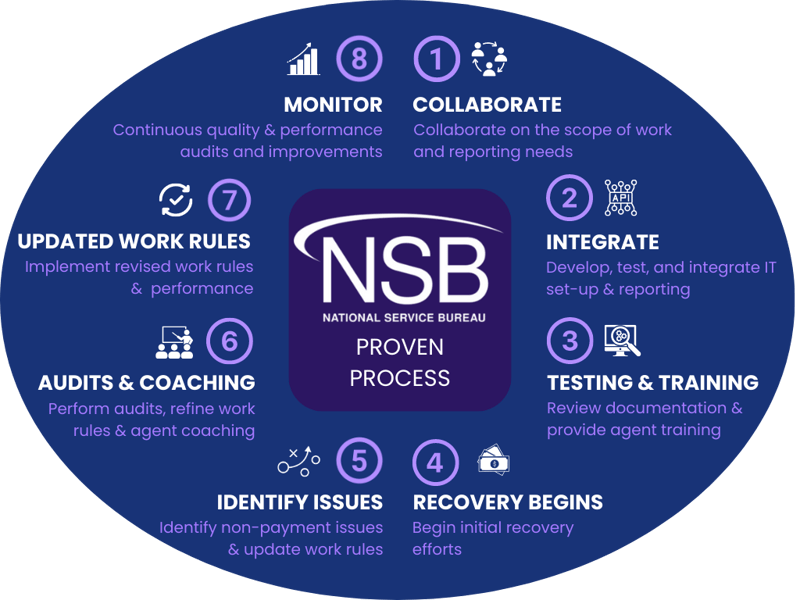 The nation's biggest brands trust NSB to turn their receivables into revenue.